Rogue One: O poveste Star Wars (Rogue One: A Star Wars Story)
Regia: Gareth Edwards
Distributia: Mads Mikkelsen, Forest Whitaker, Felicity Jones, Diego Luna, Alan Tudyk, Sam Claflin
Distribuit de Forum Film Romania.
May the Force be with you!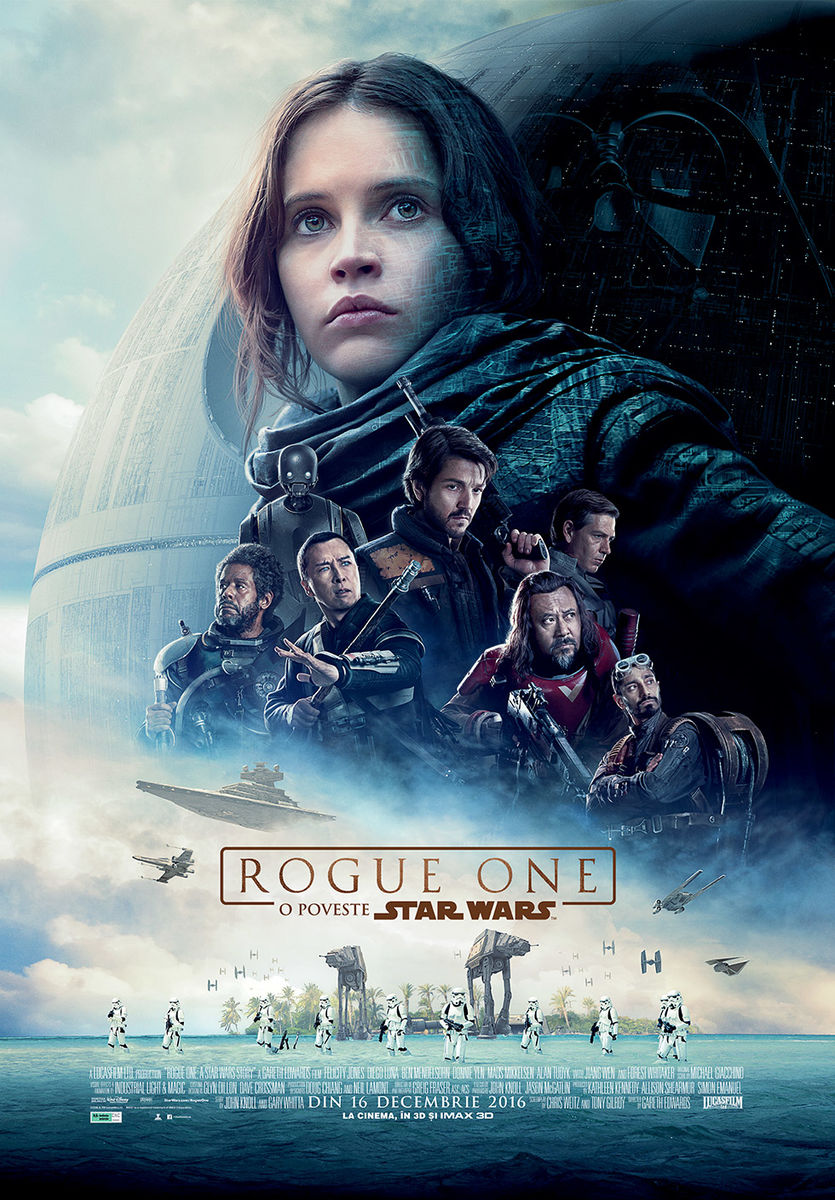 Candva, demult, dar nu foarte demult, cand nu prea stiam eu despre universul Star Wars, am fost indemnata sa ma uit la filmele din serie incepand cu episodul IV. Mi s-a parut extrem de dubios atunci, dar am ascultat. IV-V-VI-I-II-III. Actiunea din "Rogue One" se petrece intre evenimentele din Episodul III – "Revenge of the Sith" si Episodul IV – "A New Hope". Filmul prezinta un grup de luptatori rebeli ce pun la cale furtul planurilor statiei spatiale distrugatoare de planete, Death Star. Jyn incearca sa lase in urma trecutul si sa se dedice total misiunii de a ajuta Alianta rebelilor. Este o misiune grea, dar Forta este cu ei. I'm one with the Force. The Force is with me. 
Avem eternul conflict dintre Rebeli si Imperiu si avem 2 personaje fain interpretate: Saw Gerrera (Forest Whitaker) si Jyn Erso (Felicity Jones). Si calugarul razboinic Chirrut Imwe (Donnie Yen) este fain. Desi este orb, crede in Forta si si-a disciplinat trupul si mintea foarte frumos in acest sens. Si mi-a placut mult droidul K-2SO, foarte – foarte simpatic si amuzant. Vreau si eu un droid al meu!
Mi-a placut Rogue One: A Star Wars Story, dar parca i-a lipsit ceva. Poate Darth Vader… dar nu va spun mai multe, va las pe voi sa descoperiti. Filmul are actiune, are si umor, are o poveste interesanta, captivanta si are personaje faine. Iar efectele speciale vazute in formatul IMAX sunt geniale.