#Concurs Atomic Blonde: Agenta sub acoperire
Agenta MI6 Lorraine Broughton (Charlize Theron) este experta in colectarea de informatii secrete, in evadari si diversiuni si in lupta corp la corp. Te poate seduce oricand. Si te poate ucide oricand.
O noua misiune o trimite in Berlin sa rezolve un caz de siguranta nationala, in timp ce revolutia sufoca strazile germane, iar tradarea este la ordinea zilei.  Singura intr-un oras dominat de haos, ea se asociaza cu agentul infiltrat David Percival (James McAvoy) pentru a deconspira un joc letal de spionaj si a readuce in tara un dosar clasificat extrem de important.
Despre film am scris un articol aici.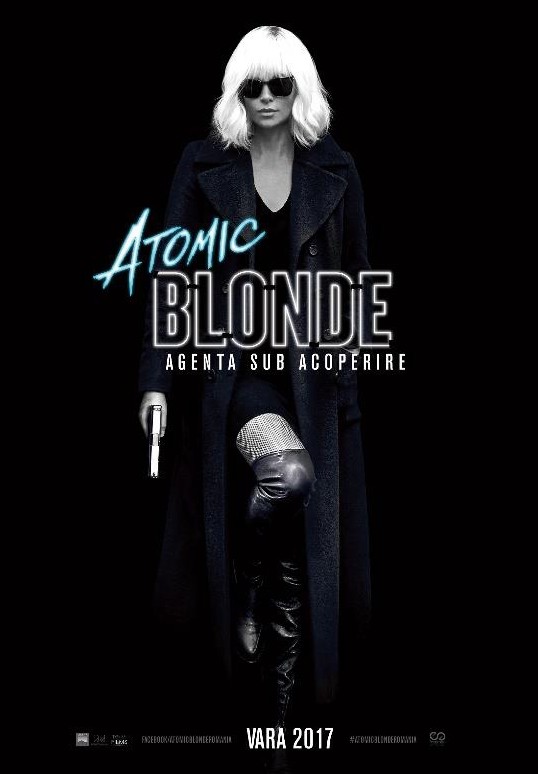 Impreuna cu Vertical Entertainment, distribuitorul filmului "Atomic Blonde: Agenta sub acoperire", vreau sa te invit la cinema.
Raspunde la intrebarea de concurs si poti castiga 2 invitatii la action thrillerul de spionaj ATOMIC BLONDE: AGENTA SUB ACOPERIRE, valabile la Cine Globe – Auchan Titan.
Actrita care o interpreteaza pe agenta Lorraine Broughton are o filmografie impresionanta care include titluri de succes de toate genurile: Sweet November, Prometheus, Hancock, Snow White and The Huntsman, Mad Max: Fury Road. Pentru rolul criminalei in serie din Monster (2003) a fost recompensata cu un Oscar. Care este numele sau?
Si am pentru tine si variante de raspuns:
a. Charlize Theron
b. Catherine Zeta-Jones
c. Nicole Kidman
Concursul se incheie luni, 7 august, iar castigatorul va fi ales de random. Mult succes!
* Invitatiile sunt valabile la Cine Globe – Auchan Titan, de luni pana duminica. Castigatorii afisati pe site pot merge la film cu buletinul si cu mailul de confirmare pe care il vor primi (printat sau pe telefon), care contine perioada de valabilitate a invitatiei.
Update: Concursul s-a incheiat. Multumim pentru participare si va mai asteptam pe blog.
Castigatorii sunt: Lucian si Voicu Stefan. Confirmarile au fost transmise pe mail.